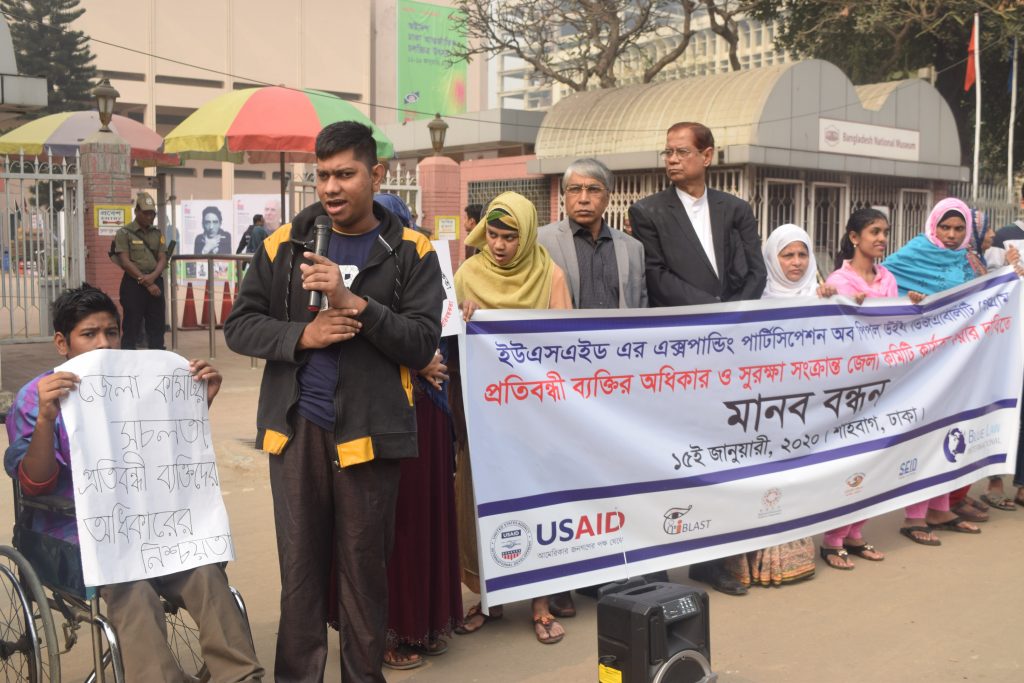 Bangladesh's 2013 Persons with Disabilities Rights and Protection Act (DRPA) establishes 64 district-level committees to implement the law. The law also requires each committee to meet four times each year. However, the Dhaka district has not met once, as required by law, which impedes the law's implementation in Bangladesh's capital city. After a year of advocating privately with Dhaka district committee members, SEID's self-advocates, young men and women with intellectual disabilities, decided to make public their demands for the committee to meet.
Through USAID's Expanding Participation of People with Disability program, which aims to mobilize key stakeholders to promote DRPA implementation, and with the support of BlueLaw International and its national-level partners (BLAST, NCDW, and NGDO), SEID organized a human chain outside the National Museum in Dhaka's Shahbag section. On January 26th, due to SEID self-advocates' pressure, the Dhaka district committee held its first meeting as required by the DRPA. SEID self-advocates participated at this historic meeting of the Dhaka committee, presided over by Dhaka's Additional Deputy Commissioner, and educated members about their duties under the law.
Find additional cover of SEID self-advocates' human chain, visit the Dhaka Tribune or Bangla Tribune.